Datum vydání druhého vánočního CD je
2. listopadu 2010
, ale CD bylo fanouškům, kteří si ho koupili v předprodeji exkluzivně u HSN posláno už 25.10.
Release date of the second Christmas CD was set for November 2nd, 2010 , but the CD was sent to the fans (who bought it on pre-sale exclusively at HSN) already on October 25.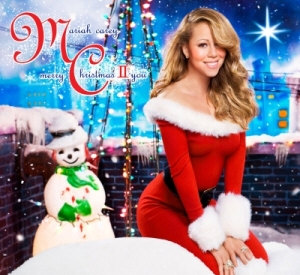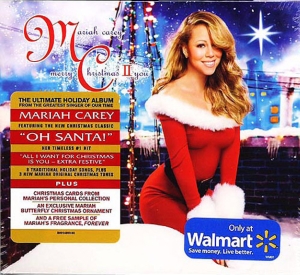 Album vychází v několika edicích:
- standardní (13 songů)
- deluxe (s dvd - 3 videa: The Making of + Recording of + Interviews)
- sběratelská edice (s mini knížkou, samolepkami, ozdobou motýla, celé v dárkové krabičce)
- limitovaná sběratelská edice (navíc podepsaná fotka Oh Santa)
- japonské verze (s bonusem Oh Santa – Jump Smokers Remix)
- iTunes pre-order (s remixem Oh Santa (So So Def) a digitálním bookletem)
Album was released in several versions:
- standard (13 songs)
- deluxe (with dvd - 3 videos: "The Making of + Recording og + Interviews)
- collector's edition (with mini hardbook, stickres, butterflz ornament, gift box)
- limited collector's edition (plus the autographed Oh Santa photo)
- Japan (with one bonus - Oh Santa Jump Smokers Remix)
- iTunes pre-order (with one remix - Oh Santa and digital booklet)
Photoshooty nafotil s MC v dubnu David LaChapelle.
Photoshoots to the album were made by David LaChapelle in April.
Tracklist:
01. Santa Claus is Coming to Town (Intro) 00:23
02.
Oh Santa!
03:31
03.
O Little Town of Bethlehem/Little Drummer Boy Medley
03:32
04.
Christmas Time is in the Air Again
03:02
05.
The First Noel / Born is the King Interlude
04:33
06.
When Christmas Comes
04:46
07.
Here Comes Santa Claus (Right Down Santa Claus Lane)/Housetop Celebration
03:28
08.
Charlie Brown Christmas
02:49
09.
O Come All Ye Faithful / Hallelujah Chorus feat. Patricia Carey
03:38
10.
O Holy Night - Live from WPC in South Central Los Angeles
05:00
11.
One Child
04:26
12.
All I Want for Christmas is You - Extra Festive
04:02
13.
Auld Lang Syne - The New Year's Anthem
03:48
THANK YOU:
As always, now more than ever,
thank you God for countless blessings.
Love and thanks to my husband, Nick,
for being a "Saint" through all this. Ho, ho, ho. LOL.
LA Reid, once again, thank you for making your magic happen! Randy Jackson, you are the best, thank you for embarking on this journey with me! Brian Garten, thank you so much for everything, and special thanks to your wife and family tolerating our crazy hours. Thank you to my other amazing collaborators on this album: uber-producer and longtime close friend, and CEO of HPRP, Jermaine Dupri, the genius, award-winning writer Marc Shaiman for unforgettable collaborations, orchestrations, Big Jim, thank you for being there from day one – always enjoy working with you, James Poyser, one of my most favorite producers, and Phil Tan, thanks for always delivering great mixes.
Thank you to my Maroon Entertainment family, Louise McNally, Michael Richardson, Gina Rainville and Rachel McIntosh. Thanks to Chris Lighty, Violator Management, and Eric Wong. My gratitude to Allen Grubman, Joe Brenner and Sonya Guardo, and to Ron Nash and Rosemarie Passerino at Gelfand, to Cindi Berger at PMK and Connie Fillipello. Thanks to Maryann Tatum and Melonie Daniels. Thanks to everyone at Island Def Jam, including Steve Bartels, Laura Swanson, David Grant, Karen Kwak, JP and Kris Yiengst. And thank you to Lucian Grainge and everyone else on the IDJ Team both in the U.S., and worldwide.
Thanks to all my loyal friends and family.
Love and thanks to my mom, Patricia Carey,
for lending your beautiful voice to my album.
(And special thanks to my brother Morgan for paying for my first demo.)
And lastly, to all my dedicated and devoted fans around the world,
you are my extended family all year long –
this Christmas album is my gift to you now, and for years to come.
Loveyamuch, Mariah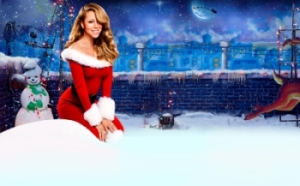 This will be a sign to you: You will find a baby wrapped in cloths and lying in a manger." Suddenly a great company of the heavenly host appeared with the angel, praising God and saying, "Glory to God in the highest heaven, and on earth peace to those on whom his favor rests."
Luke 2:12-14
"Blessed is she who has believed that what the Lord has said to her will be accomplished!"
Luke 1:45
Video: Mariah Previews Merry Christmas II You on HSN
FULL TRANSCRIPT
Colleen Lopez, HSN:
We are so thrilled to be in Mariah Carey's beautiful home here in Los Angeles to premiere her fabulous new holiday album. I have to tell you, a lot of us remember back in 1994 when we purchased her first album. Since that, her first Merry Christmas album became the no. 1 top selling holiday CD of all time. So we have been waiting a long time for this. Mariah has recorded a brand-new album. You're gonna fall in love with it. Lots of classics; tons of brand-new, original songs as well. And on HSN today, the package we're gonna offer you is exclusive. It's $14.95. You get not just this CD, which you're gonna fall in love with, but you also get the DVD. It's reduced shipping today by the way so grab it because I promise you, you want to fill your home and your world with this beautiful music. And it's all thanks to the lovely Mariah Carey who is so gracious to welcome us into your amazing home. Thank you so much. And who is this darling little friend with us?
Mariah Carey:
Thank you. This is our new puppy Jackie. Jackie Lambchops is her full name.
HSN:
You're envisioned with your tree, we have the fire burning, you have your little puppy, your friends, I hear they call you Miss Christmas?
MC:
: Well, some. They call me many things [laughs] but yes, I am very festive. I love the holidays. Everybody who knows me knows that I make a huge deal out of Christmas. I am to the point of like, I mean, it needs to be stopped [laughs]. No, it's just, we're getting in the mood for Christmas this early.
HSN:
Right, I love that and what better way. Your music, even though it's a holiday album, I want to play it immediately. You want to start playing it in October. The songs are so beautiful. It took a while, why now? Because 1994, it's been a while, why did you decide now to record a new Christmas album?
MC:
: Being that I was five years old when I made that album [laughs], I just felt like, "You know what? Let me give the world..." No, sorry I had to do that. I'm a writer... [Sorry, the dog's behind is not good in the shot. We love you Jackie but we're going to have to let you go because the butt shot isn't working. This is a holiday moment. Bye-bye.] So I decided to do another Christmas album because so many people have told me that they really enjoyed the first album and that they listen to it throughout the year.
HSN:
Think about it - the best-selling of all time. Think of all the Christmas albums. And it continues to be, I mean, every year, it continues to be a huge album.
MC:
: That's the amazing thing. It's a gift for me really because I've always, I love the holidays. Ever since I was little, it's been just my favorite time of year and to be able to have this Christmas, particularly "All I Want For Christmas Is You," which I have on the new album as well as the original album. Yes, I had to do that because like every year people tell me they wait for that song and that's how they know Christmas time is here. And it's one of those things where I'm like, "I wrote this song on a Casio keyboard in upstate New York so many years ago," and I'm like I can't believe there are people who grew up listening to that. They have memories of their own - Christmas memories that go with that song. So we have the classics and all the favorites such as "All I Want For Christmas Is You" from the original album, and then I've written a new song that sort of in the vein of "All I Want For Christmas Is You" but it's called "Oh Santa!" and it's like, it just feels like something you've heard before. It's got a classic vibe to it. Sort of the way like "All I Want For Christmas Is You." When I wrote that, I wasn't thinking, "Oh, let me write something that sounds very of-the-moment. I wanted it to feel like a classic then. But back then I wasn't thinking like, "Let me make a hot record for 'today's time.' So I was thinking let me just do something kind of that will stand the test of time. And that's what this new song is but it has this really infectious hook and it's really fun. And then, of course, there are the ballads, traditional songs like "O Come All Ye Faithful," and "The First Noel," I could go on forever. But it's like on the first Christmas album, I did "Hark! The Herald Angels Sing" and combined it with... we did sort of a lot of medleys on the first album - the first Christmas album I did Merry Christmas so Merry Christmas II which is actually called Merry Christmas II You, I wanted to make sure that we had enough classics so people would feel like they can listen to the album and it's not like, "What is this weird rendition of a song I've known all my life? I wanna hear it pretty much as I grew up hearing it" but obviously, I have my own style so I try to bring that into it. A lot of people have been asking me for years, "Are you ever gonna sing with your Mom?" They know that my mother is an opera singer.
HSN:
Is your mom gonna sing with you on this album?
MC:
: Yes. We discussed doing a duet and I really wanted to make sure it happened on this Christmas album. So I feel really blessed to be able to have this opportunity to have this on record forever - a song with my mom. She's the one who really got me into being so festive at Christmas, I have to say. Like she's very festive as well.
HSN:
I just have to say, this is going to sell out. Everyone's going to buy this. It's $14.95. You get to hear the duet that Mariah was just talking about along with all of your other favorites, lots of new. The unique thing about Mariah Carey is that, along with your incredible voice, this 5-octave voice that is just the voice of an angel, you are really the only one artist that does everything - you produce, you write your songs, you arrange your songs. You have so many varied talents that you were able to incorporate into your work that is really unlike most artists today. You really have so many gifts.
MC:
: Thank you. I truly believe that music is a gift, I really do. And it can be something that's passed down but I really do feel it's a gift from God. That's why I love singing, particularly holiday songs. It's a different feeling that you get.
HSN:
So do you have a favorite classic on this album? A classic we can share with everyone at home?
MC:
: I really can't pick a favorite but what we've got on this album are like these very festive uptempos like "Oh Santa!" with an infectious hook that you just want to hear over and over. It's my own song so it's weird to talk about it like that but that's how I feel. I'm proud of it. At a certain point I backed away from it like it's somebody else's thing. I don't wanna sound as if I'm bragging about my own song that's what I'm saying.
HSN:
You're passionate about it and that's infectious. That's wonderful!
MC:
: So there's "Little Town of Bethlehem" and the "Little Drummer Boy" and Randy and I and Big Jim Wright did this arrangement where it's sort of a medley of the two. It's kind of a cool different way to hear it but you get used to it after listening to it one time and I really enjoyed singing it. And so that'll be a nice, better music just to get you in the mood.
HSN:
We're gonna take a listen right now, listen to one of the classics, how about "O Little Town of Bethlehem"?
MC:
: Sounds good.
["O Little Town of Bethlehem/Little Drummer Boy" Snippet plays]
HSN:
So beautiful. The choir, the vocal arranging. That's just one of the many beautiful songs you're going to experience on Mariah Carey's latest Christmas album. If you'd like to order, I know we're very busy, it's $14.95. You cannot buy this package anywhere but here. It's a reduced shipping & handling. You will fall in love. So along with classics, things that we look forward to hearing at Christmas time and nobody sings them like Mariah Carey. There are going to be lots of interesting, exciting new songs. I know, Mariah you're doing collaborations again with Jermaine Dupri, that's very exciting.
MC:
: Yes. The fans are really excited. They kept going on Twitter saying like, "What are you guys doing? Is it a Christmas album? What is it?" and we didn't really want to tell so that was kind of tough to keep under wraps. I love working with Jermaine.
HSN:
I love that you're collaborating with your Mom on this album. Your mom is an opera singer, of course. That's really special.
MC:
: I feel it was important for me to do something with my mother. I'm just really excited for people to hear her voice and she's a tremendously gifted singer so we did a song, we did, I did a new arrangement with Big Jim Wright of "O Come All Ye Faithful" into the "Hallelujah Chorus." Actually a friend of mine, my friend Erik from Chicago, he actually said, "You should do the 'Hallelujah Chorus'." And then when I talked to my mom about doing a duet I thought that would be interesting because she would be able to do that so beautifully. And so I do the first part, she does that middle section, and then we sort of take it out together. It's really nice because people who aren't necessarily opera fans, they want a little taste of that and then they want to go back to the regular Christmas vibe that they've been listening to so it's a nice combination.
HSN:
One of the things that strikes me about you, you have such a sense for really what people love. And you think about, you seem ageless to me. Look at you, you look so amazing. I can't believe you launched that first album in 1994. I'm just saying this. You look so amazingly young. You're looking younger now. I was looking at my original 'cause I bought your original Christmas album I swear you look younger now than you did on that original. It's similar. I loved it, it's kind of a play on the...
MC:
: Actually we tried to, this is sort of the night time fun version of that album and the first Christmas album I was freezing cold and my hair was frozen to my head. This is sort of like, there's the Merry Christmas that side of it, this is sort of part 2 and I wanted to really keep the essence of what the first Christmas album I did had. I wanted to give people those big background vocals. I wanted to make sure I gave vocal performances that people really wanted to listen to and felt something from because I know when I'm singing and I feel something that's probably gonna, people will feel something from it as well so I wanna preserve that. I also wanted to keep the fun, not-so-serious festive side of the whole thing.
HSN:
I want to remind everybody, if you haven't called yet, for $14.95 you get everything we're talking about and so much more. And by the way, you can't get the DVD anywhere but here so it's a CD/DVD package. It's for $15. What a beautiful gift too by the way - holiday gift, perfect gift.
MC:
: I love watching at Christmas time just anything Christmassy like we'll leave on the cartoon movies or whatever it is. So the DVD, it's just like a special feature which you can leave it on and hear the music and feel, whatever you're doing, if you're cooking, if you're hanging out, whatever it is, it's just there. The footage of the creation of making this music to kind of enhance the holiday.
["O Come All Ye Faithful/Hallelujah Chorus" with mom Patricia Snippet plays]
HSN:
You're going to fall in love with Mariah's newest Christmas album. We're so excited to be premiering it here today. I'm thrilled to see so many of you ordering it because truly when you fill your home with this amazing voice, and these beautiful songs, it feels like Christmas, it sounds like Christmas, it puts your heart in the right place during this beautiful Christmas season that's going to be coming up right around the corner. For under $15 I don't want you to miss it. It's just you've done such a beautiful job. It's funny because you touched on earlier, you said, "Oh people say I'm diva" and you are so not that. You're just a perfectionist. You just are so passionate about what you do and that's why your work is so amazing. Really. It just shows on what you do.
MC:
: Thank you. You know what it is, I guess I feel like I don't feel diva's not a compliment because having an opera singer for a mother I've been hearing diva since people didn't say diva every other word and it's like it really does mean someone who's talented, and it can also mean difficult, but hey, we can all be difficult every now and then. But I guess I feel like being someone who loves to create music and work on different genres and I tried to sort of let that be represented in this Merry Christmas II You album because the template was the original Merry Christmas album and that's why you can play them back to back and not feel like jolted or jarred or something odd just happened. I was really inspired by like the Nat King Coles of the world and all the classics that we love just in terms of the music but then also like the fun Mike, Jackson 5s, and '60s records that are really festive Christmas songs but they have a soulful vibe to them as well. They make you feel happy, and I think that's the whole thing. It's about family and friends, and it just really takes you in. I actually wrote with James Poyser who is a wonderful musician. We worked on The Emancipation of Mimi together. We did a song called "Mine Again" which a lot of my fans love, that's a fan favorite. It was never a single but a lot of people really liked it. We wrote this new song called "When Christmas Comes" and it talks about every kind of part of what you deal with during the holidays - relationships, family, every bit of festivities, even worshipping the real, whatever your definition of Christmas is. I think it's kind of encompassed within that song and it's got a nice feeling to it.
HSN:
And you and Randy Jackson worked on, co-produced this together. I know you've so many amazing things together.
MC:
: I love Randy Jackson. Randy Jackson just to anybody who doesn't know - Randy Jackson of American Idol, is a very, very invaluable person in my life. He's such a great friend. He is an incredible musician. He's been on the road with like almost every band in history. You mention anybody's name it's like he knows them but he really does. Everybody thinks that he's making this up but he really does so we really got together and I said, "Randy, let's do this 'cause I know you get what my music has to be and the broadness." Because of the demographic where it's like I'd be able to reach young people as well as older people, and all different ethnicities and so Randy can get that.
HSN:
That's not easy to do but you do that.
MC:
: I do because it's what I really am and what I really love.
["The First Noel/Born is the King Interlude" Snippet plays]
HSN:
You are absolutely going to fall in love with Mariah Carey's newest Merry Christmas II You. Wait till you fill your home with these beautiful songs. We all love Mariah's voice but when she's singing our favorite Christmas classics and all of this new music, I cannot wait for you to get this home. It's $15, $14.95 reduced shipping & handling. It's an exclusive package. We're the first to launch this and you cannot find this anywhere else. So you get the new album and you get the DVD both. And I just can't wait for people to experience it. Right? It puts you in the mood for Christmas.
MC:
: It definitely does and if you only knew a lot of the time when you record a Christmas album it's not at Christmas time. So the really cool thing about working with Randy Jackson on this album is he has a studio out here that we worked in a lot and he had them decorate so much even during the heat of summer and it was Christmas time for everybody 'cause he knows how I am. I have a Christmas tree set up. I have a vocal booth in my house where I record a lot of stuff, it's pink and black and very festive. In that room I have a Christmas tree and everything set up just because I wanted to make it feel authentic. A lot of people look at making a Christmas album like, "Oh, it's just a throw-away thing and then I'll do my real album." For me, these are timeless pieces of work that can last year after year after year and so I wanna be able to listen to it.
HSN:
Isn't one of your Christmas songs the no. 1 ringtone around the holiday season?
MC:
: "All I Want For Christmas Is You" and that makes me really happy. Everytime I see that because again as a songwriter I'm sitting there like this is something that's really making people feel festive and that's my whole thing. I'm very festive, I'll admit it, in case you didn't get that by now.
HSN:
It's a good thing. And you know what? I know, we're running out of time. $14.95 to get this home. Again, I love the fact that we get to launch it here. That it's exclusive so not only do you get the beautiful album that I just know, I love the original so much, this is everything that original is and more.
MC:
: We actually redid "All I Want For Christmas Is You" for everybody to be able to have that, know that they're going to get that song on this album as well as a bunch of new, the "Oh Santa!" which everybody is calling me about going, "I can't believe you wrote another Christmas song that's my favorite new song ever."
HSN:
And then the DVD we can play that during holiday parties or just to get into the spirit.
MC:
: You can leave that on while you're cooking, doing whatever. I actually cook at the holidays, nobody believes me but I do. And you'll see, they'll see some of the content of that and a lot of fun, festive footage just for you guys that we have on this DVD.
HSN:
You and Randy Jackson make a great team.
MC:
: I love Randy Jackson. Honestly, I couldn't have made this album without him. He put me in such a great space and he's just been such a helpful... he's an amazing musician everybody out there. He's not just someone who judges people in a talent show.
HSN:
He was in the band Journey, right?
MC:
: Yeah, he worked with Journey for a long time. He's worked with almost everybody but he used to be my musical director. Even when I got out on tour, sometimes he still does so much for me, even though he's super busy. This has been a really, really fun journey with him and just having this new album. And David LaChapelle who's one of my favorite all-time photographers came out of retirement and shot this album cover for me. So it's like we have the original Merry Christmas which sort of shows the daytime, and this kind of gives you the nighttime fuzzy feeling. Also a little bit more like city lights kind of you know so it's an all-around feeling of holiday cheer.
["Santa Claus is Coming to Town" Intro plays, then segues into the full "Oh Santa!"]
HSN:
You know what I think is remarkable when I listen to the album is when I think of your amazing career, you've worked with the biggest Hip-Hop artist of all time, you've worked with the most famous Pavarotti, opera singer of all time, and yet when you listen to the music it's seamless. You incorporate so much but it's so beautiful and seamless. How do you do that?
MC:
: It really is sort of almost a representation of who I am because I did grow up loving and listening to R&B and Hip-Hop but I also have an opera singer for a mother and she also sang Jazz and I was exposed to a lot of different styles of music as a kid. I even started out like just playing and singing with Jazz musicians growing up and stuff. And so working on an album like this new, or even starting with my first Christmas album, my task was to make an album with uptempos that were festive and fun but still did not alienate anybody when they listen to the big ballads and that's what I was trying to do with Merry Christmas II You which is basically an extension of where we left off on the last album so it won't feel jarring. So you're gonna feel the soulfulness of some of the collaborations with like a James Poyser, Jermaine Dupri, obviously Randy Jackson, Big Jim Wright, and then you'll feel the beauty of something that a new song or a classic like "The First Noel" or "Little Town of Bethlehem" or "O Come All Ye Faithfaul," orchestrated by one of most incredible Oscar-nominated, Emmy-winning geniuses that I just fell in love with, Marc Shaiman. And so it's like my task was really to make the album a seamless piece of work where you could put it on and listen to it and as you are going about your holiday moments just have something as sort of a soundtrack.
HSN:
I think that's one of the things that I love most about you is that I've always been a huge fan. I've loved you from 1990 when you burst on the scene.
MC:
: From birth because that's when...
HSN:
[Laughs] Exactly! When you were 2.
MC:
: No, that's when I was born and that's the amazing thing that nobody gives me credit for. I'm sick and tired of it. I did stuff from inside the womb[laughs]. Colleen, you have to forgive me. Sorry, people.
HSN:
[Laughs] Genius. It is true.
[At this point, Mariah talks about her jewelry and shoe collection that she will be showcasing on HSN in late November.]
Source of full transcript: MariahDailyJournal