Datum vydání druhého vánočního CD je
2. listopadu 2010
, ale CD bylo fanouškům, kteří si ho koupili v předprodeji exkluzivně u HSN posláno už 25.10.
Release date of the second Christmas CD was set for November 2nd, 2010 , but the CD was sent to the fans (who bought it on pre-sale exclusively at HSN) already on October 25.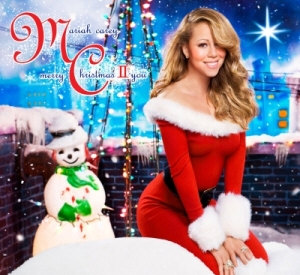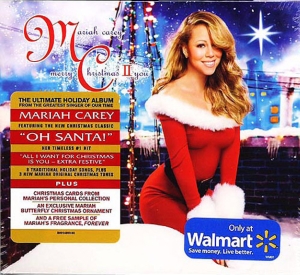 Album vychází v několika edicích:
- standardní (13 songů)
- deluxe (s dvd - 3 videa: The Making of + Recording of + Interviews)
- sběratelská edice (s mini knížkou, samolepkami, ozdobou motýla, celé v dárkové krabičce)
- limitovaná sběratelská edice (navíc podepsaná fotka Oh Santa)
- japonské verze (s bonusem Oh Santa – Jump Smokers Remix)
- iTunes pre-order (s remixem Oh Santa (So So Def) a digitálním bookletem)
Album was released in several versions:
- standard (13 songs)
- deluxe (with dvd - 3 videos: "The Making of + Recording og + Interviews)
- collector's edition (with mini hardbook, stickres, butterflz ornament, gift box)
- limited collector's edition (plus the autographed Oh Santa photo)
- Japan (with one bonus - Oh Santa Jump Smokers Remix)
- iTunes pre-order (with one remix - Oh Santa and digital booklet)
Photoshooty nafotil s MC v dubnu David LaChapelle.
Photoshoots to the album were made by David LaChapelle in April.
Tracklist:
01. Santa Claus is Coming to Town (Intro) 00:23
02.
Oh Santa!
03:31
03.
O Little Town of Bethlehem/Little Drummer Boy Medley
03:32
04.
Christmas Time is in the Air Again
03:02
05.
The First Noel / Born is the King Interlude
04:33
06.
When Christmas Comes
04:46
07.
Here Comes Santa Claus (Right Down Santa Claus Lane)/Housetop Celebration
03:28
08.
Charlie Brown Christmas
02:49
09.
O Come All Ye Faithful / Hallelujah Chorus feat. Patricia Carey
03:38
10.
O Holy Night - Live from WPC in South Central Los Angeles
05:00
11.
One Child
04:26
12.
All I Want for Christmas is You - Extra Festive
04:02
13.
Auld Lang Syne - The New Year's Anthem
03:48
THANK YOU:
As always, now more than ever,
thank you God for countless blessings.
Love and thanks to my husband, Nick,
for being a "Saint" through all this. Ho, ho, ho. LOL.
LA Reid, once again, thank you for making your magic happen! Randy Jackson, you are the best, thank you for embarking on this journey with me! Brian Garten, thank you so much for everything, and special thanks to your wife and family tolerating our crazy hours. Thank you to my other amazing collaborators on this album: uber-producer and longtime close friend, and CEO of HPRP, Jermaine Dupri, the genius, award-winning writer Marc Shaiman for unforgettable collaborations, orchestrations, Big Jim, thank you for being there from day one – always enjoy working with you, James Poyser, one of my most favorite producers, and Phil Tan, thanks for always delivering great mixes.
Thank you to my Maroon Entertainment family, Louise McNally, Michael Richardson, Gina Rainville and Rachel McIntosh. Thanks to Chris Lighty, Violator Management, and Eric Wong. My gratitude to Allen Grubman, Joe Brenner and Sonya Guardo, and to Ron Nash and Rosemarie Passerino at Gelfand, to Cindi Berger at PMK and Connie Fillipello. Thanks to Maryann Tatum and Melonie Daniels. Thanks to everyone at Island Def Jam, including Steve Bartels, Laura Swanson, David Grant, Karen Kwak, JP and Kris Yiengst. And thank you to Lucian Grainge and everyone else on the IDJ Team both in the U.S., and worldwide.
Thanks to all my loyal friends and family.
Love and thanks to my mom, Patricia Carey,
for lending your beautiful voice to my album.
(And special thanks to my brother Morgan for paying for my first demo.)
And lastly, to all my dedicated and devoted fans around the world,
you are my extended family all year long –
this Christmas album is my gift to you now, and for years to come.
Loveyamuch, Mariah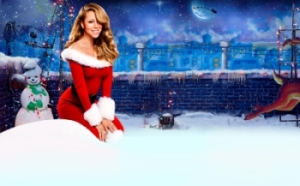 This will be a sign to you: You will find a baby wrapped in cloths and lying in a manger." Suddenly a great company of the heavenly host appeared with the angel, praising God and saying, "Glory to God in the highest heaven, and on earth peace to those on whom his favor rests."
Luke 2:12-14
"Blessed is she who has believed that what the Lord has said to her will be accomplished!"
Luke 1:45